by Simone Diamond, Coast Salish
"I create art that connects me to my family, our traditions and our spirit of continuity."
- SIMONE DIAMOND, COAST SALISH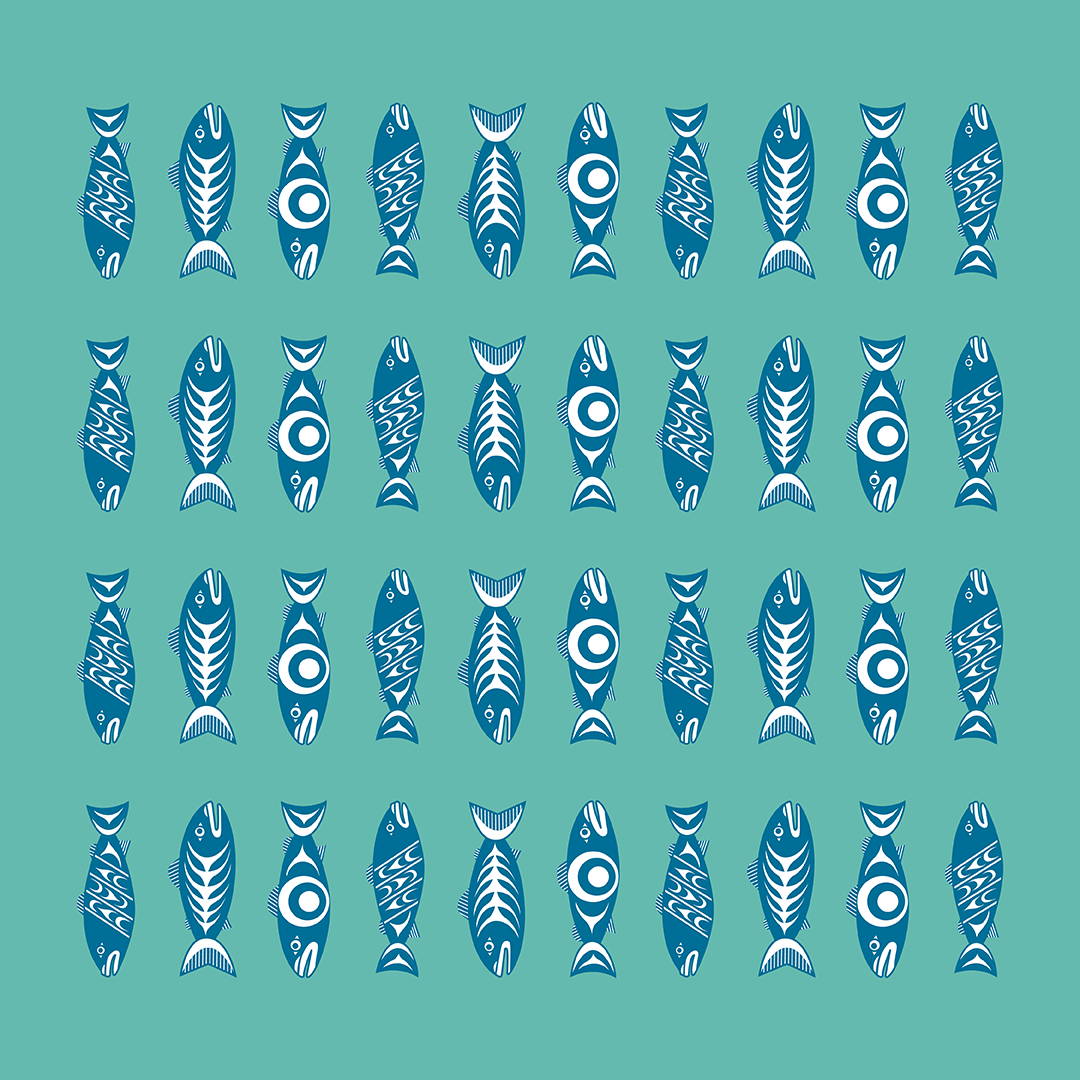 THE SALMON IN THE WILD DESIGN
"Salmon means a lot to the Coast Salish people, and we've been using it for ages. But in our busy lives, we often forget how important it is to appreciate and look after things like this. We've got to protect these resources so they're available for future generations."
THE SALMON IN COAST SALISH CULTURES
Life, prosperity and nourishment
Totem poles, art, canoes and oars
Protection for future generations
Coast Salish are a large grouping of many ethnically and linguistically related nations of the Pacific Northwest Coast. Indigenous peoples of numerous distinct cultures and languages, spanning from the northern limit of the Salish Sea on the inside of Vancouver Island all the way to Tillamook, Oregon.

The traditional and unceded territory of the Coast Salish peoples covers most of southern Vancouver Island, all of the Lower Mainland and most of Puget Sound and the Olympic Peninsula. Coinciding with many major metropolitan areas, namely Victoria, Vancouver, and Seattle.

Coast Salish cultures and art differ considerably from those of their northern neighbours. Comprised of circular shapes and ovals, trigons, crescents and extended crescents, Coast Salish art noticeably differs from Haida formline art comprised mainly of ovoids and u-forms.

Indigenous art of the southern Northwest Coast has been largely underrepresented and misunderstood for generations, but in recent decades a Salish Renaissance has emerged. Native Northwest is proud to partner with many artists considered to be at the forefront of this revival.
Simone Diamond is from Duncan, British Columbia. She is a Coast Salish artist and the daughter of well-known master carver Francis Horne Sr. Her designs are in the West Coast Salish style and incorporate such mediums as pencil, painting and carving.

She carved her first mask at the age of 13 and was selling her designs by 16. Simone is a self-taught artist who has a strong family history of influential West Coast Salish artists. Continuing to develop her unique and very detailed style, she is working towards establishing her career through consistent work.